KUNAKORN????? NUMNIM
COMPUTER SCIENCE
SCHOOL OF INFORMATION TECHNOLOGY
KING MONGKUT?S UNIVERSITY OF TECHNOLOGY THONBURI
Preface
The production has prefaced a report on internship program at Kobe University on 1 June ? 30 July,2017. Summer session. The content covered the topic internship program at Kobe University, Japan. And guild line about preparation, travel plans, expense plans, living in university and works as internship student.? The production would like to thank my advisor, Assoc. Prof. Dr. Jonathan Hoyin Chan.Without their strong support, sincere helpfulness and encouragement, we will not successful in this internship program.
The production hopes the report is useful for people who are interested internship program at Kobe University or any universities in Japan.
REPORT DETAIL
Name????????????????????? Internship Program at Kobe University
Period ??????????????????? 1 June 2017 ? 31 July 2017
Candidate ???????????? Mr.? Kunakorn Numnim : 57130500243
Program????????????????? Computer Science
BACKGROUND
The Faculty of Engineering, Kobe University was established in 1949, growing out of the former Kobe Technical College, which was originally established in 1921. Since then, the Faculty has contributed to the development of modern industrial society in the latter half of the 20th Century through its education and research. The aim of the Faculty in the new millennium is to educate future researchers and engineers to be able to contribute to the welfare of humankind through cutting-edge technologies.
The Faculty now has six departments: Architecture, Civil Engineering, Electrical and Electronic Engineering, Mechanical Engineering, Chemical Science and Engineering, and Computer Science and Systems Engineering, each of which consists of several divisions areas dedicated to the specific purposes of education and research. Approximately two-thirds of students continue on to Master's program for higher education.
PREPARATION FOR Internship at Kobe University
Japan Visa Information
For apply Japan Visa, there is Japan visa application centre (CVAC) in Thailand called VFS Global, which is official service provider for the Government of Japan. Applicants could enter VFS.Global website for information and visa application. This internship program covers the period from 1 June 2017 ? 31 July 2017. Follow the Japan Government compliances, the visa type should be visitor visa for three-month stay.
The application's consideration depends on the discretion of the consular officer. The duration of the operation at least 7-10 business days (except Saturday – Sunday. And holidays of the Embassy).
Address of VFS Global:


One PACIFIC PLACE 9th FL Unit # 910
140 Sukhumvit Rd,
Khlong Toei, Khlong Toei,
Bangkok, 10110
Steps to Apply for a Canadian Visa
Prepare Application
1 Checklist

Application Form

Family Information Form

Statutory Declaration of Common-law Union & Representative Form (if have representative)

Passport which is valid for more than 6 months.

2 photos, 35 mm x 45 mm with white or black background, clearly revealed face not and the photo must not over 6 months.

Bank statement, financial history (Book Bank), bank guarantee (If have), dating back 12 Months

Sponsorship letter with signed certificate (If parents support the finance)

Academic transcript

1 Copies of house registration

Hotel or resident confirmation

Itinerary or Flight booking
Note Every need to show in English only. Any document in Thai must be translated to be English
Submission
?????????? The student submits the application and prepared document to VFS Global office. And the student can check the status of visa applying via VFS Global website. The Japan Embassy may make appointment with visa applicant for additional information or request more documents.Payment
?Payment
?????????? There are fees for applying Japan visa with VFS Global. The student can check current fee in VFS Global website. The fees can be paid by bank check, cashier check or bank draft to ?VFS (Thailand) Ltd.? And ?Embassy of Japan? only.
Note Update at 01/04/2016 – 595 Baht for VFS Global. Please ask and check current fee rate with VFS Global officer before open cashier check because any problems such as name spelling or wrong amount of money must be changed by bank that issued cashier check.
BRIEF DESCRIPTION OF ACTIVITIES
Internship student introduction Orientation
29 June, 2017
Activity is a chief, we introduced in front of members in the lab.). Then the members in the lab introduced himself to us. Then the teacher took a walk around the University, and talk about the project.
?
Final Presentation at Meeting Room
20 July ,2017
Today is the day that all the people/members must be presenting projects done throughout the semester in front of teachers, including internship student.
Barbecue Farewell at backyard
20 July, 2017
Party that teacher arrange in return to work with a student in the lab and as a farewell to the students training.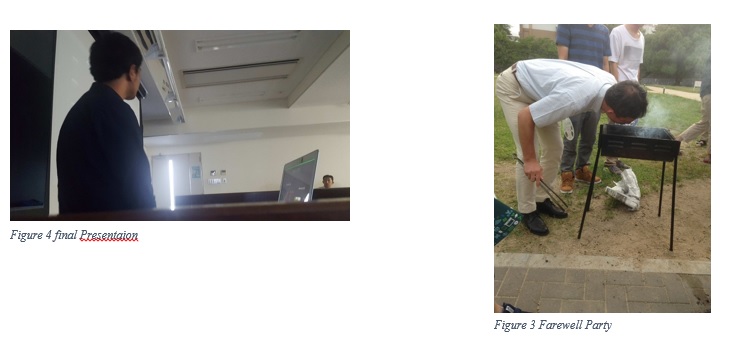 TRAVEL ITINERARY
Don-meung Airport to Kobe University

Bangkok to Kansai Airport

Scoot? ?

BKK to KIX May 28, 9.25 AM??

(5 h 25 m)

Kansai Airport to Kobe

MK Taxi at airport? ??

(1 h )
?
Kobe University to Don-meung Airport

Kansai Airport to Bangkok

Scoot? ?

KIX to BKK Aug 4, 18.00 PM? ?

(5 h 25 m)
RESIDENCE
Air BNB Share House Services
??????????? Air BNB share house service is very continence for me. The student only walks down the hills to go to University in 20-30 minutes walks or by train only 1 station. Air BNB ?located near Mikage station(train station)? and provided single bed, desk and chair, and drapery for windows. And shared full kitchen, full washroom, and living room.Air BNB offers 120,000yen/person for 2 months. This price included utility cost(electricity, water, etc).
Working
????????????? My project is about mining the social media and my topic is why Bangkok becomes ?traffic jams?among world's worst. By using the CRISP-DM framework that provided us six-approaches to follow the protocol. I decided to use the Twitter Api to help me to get the datas and selected the Streaming Api Service that is?give developers low latency access to Twitter's global?stream?of Tweet data.?Suitable for following specific topics, and data mining by using Python language. The scope of the my project is in Bangkok Thailand. Additionally, I using the open source code named Lexto for Tokenization the word that I?ve got. After that I got the result what is make the Bangkok to be traffic jam.
ATTRACTIONS IN JAPAN
EXPENSE
TITLE

BATH

Flight Ticket? ??

Bangkok to KIX? ??

and? ?

KIX to Bangkok

17000

Ticket??

KIX to Kobe? ?

And? ?

Kobe to KIX

1400

Accommodation Fees

40000

Meal per for 2 month

40000

Transportation Fees

5000
PROBLEMS/OBSTACLES
Transportation
Kobe University located at middle of mountain in Kobe, Hyogo. With many reasons, almost people use their personal motocycle for going to University. I recommend student to walk.
Facility in Lab
There are no enough facility stuff in lab I have shared the same table with the another friend in some days.
BENEFITS OF INTERNSHIP PROGRAM KOBE UNIVERSITY
Internship program at Kobe University brings us great opportunities to practice our language, study new knowledge from quality university as well as learn Japan culture. We got friends from many countries such as Japan, Korea, Kenya. Moreover, not only work in the lab, I have the chance to travel around Japan such as Osaka, Kyoto, Nara and Kobe. To visit many cities that contain various cultures make us understand the wider world with open eyes and open mind. I learn to survive in a foreign country This internship program at Kobe University is the best experience and adventure we ever met.